Ava Hodgins, TU Dublin (TU965 - International Business and Languages)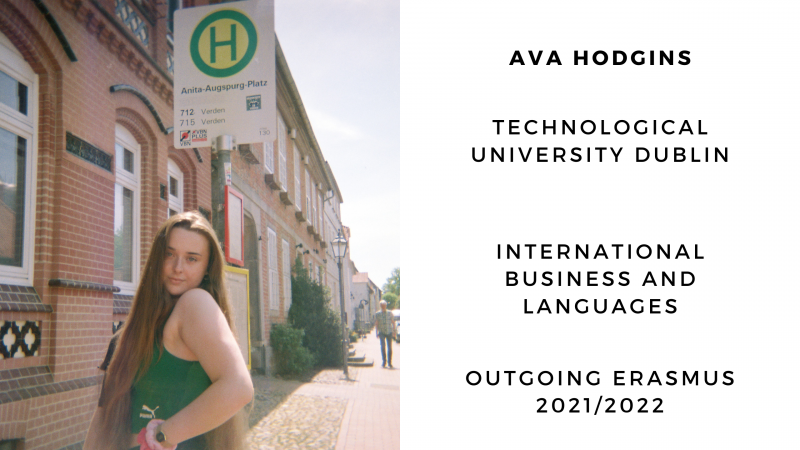 Where did you study abroad? 
Bremen, Germany 
What did you study abroad?
I got the pleasure of being an English Language Assistant in Bremen, Germany. I was extremely lucky to be placed in a primary school working with ages 6-12. With working in a school I feel I got to see all the cultural aspects particularly around the holidays. I had so much fun teaching that it never really even felt like work! It confirmed my love and passion for teaching and I loved it that much, I am applying to do it all again this year!  
Did you join an ESN Section abroad? Favourite Event?
Yes! I met some great people through here when I first arrived in Germany. Still friends with a lot of them now too! 
What is your favourite memory from your Erasmus experience?
It's truly hard to pick just one. I feel like ELA made my experience more enjoyable and gave me the freedom to travel and take in as much as I did compared to those who studied in Uni and had a bit more added pressure so definitely think that added to my positive experience. Alicante was definitely one of my top favourite moments getting to travel and see my best friend was amazing and being in final year now and reflecting, we wish we did it so much more so take full advantage of this year! Even if its a quite weekend, go to the cinema, that was actually some of my most enjoyable weekends too. The cinemas in Germany were quite old fashion and it gave you chance to improve your language too. 
Did you also travel to any new countries while studying abroad?
I travelled a lot on my Erasmus. 
My first trip was Cologne, travelled here by train. You definitely need to book a seat or you'll be sitting!  Then travelled to Berlin a few times because my best friend stayed there which was great. Berlin is a whole experience in itself, you go once, you'll be planning your next visit!  Hannover was quite close to Bremen so I went here a few times, its quite pretty and great atmosphere. Verden was actually the town where I lived, a little outside Bremen and I loved that town so much. It had the greatest atmosphere and cafes and little gems that really made it feel like home, I had my regular visits to the coffee shops and became a regular at a lot of them. 

I visited my best friend in Alicante Spain which was amazing!! Never say no to visiting people when they ask, it was the best trip ever and I got to meet other people in my course which I never would of spoke to before so it was amazing, best trip! I got a flight here from Bremen and it wasn't overly expensive, think we discovered it was more expensive to go from Dublin - Alicante so that was a bonus. I also travelled to Frankfurt which was quite historically and cool, pretty business-y so it is slow and quite Monday-Friday. 
Do you have a fun fact about studying abroad?
The School system definitely showed me a lot of differences: the kids rotate to different classes, they don't stay in the same room with the same teacher, it is almost like secondary school. My school also had therapy dog that strolled around the school to comfort kids which was so cute and I would take them on walks for my break. 
Sunday in Germany is like the day of rest, EVERYTHING is closed. There was always one week in the month when I forgot this and had no food or water for the day so set a reminder!!
Top tips for the University/City you studied at? Favourite places? Shops? Restaurants?
Bremen has a lot of hidden gems and treasure in the cracks of their streets, never overlook them, always take time to explore and go down, I found some amazing cafes and stores doing this. 
Never say no! Always be up to explore, the year goes by so fast and you don't want to have any regrets. My whole course was on Erasmus in different places and whenever someone asked me to visit, I hopped on a flight or train and had the best weekends ever! 
Get a diary! This is a massive year of not only learning but also growing. I loved taking fifteen minutes of my day and sitting by the harbour (which became my little spot) and writing about; what I did that day, what I learned and most importantly, how I was feeling (cringe, I know) but when you're abroad and away from home, its easy to feel lonely and homesick. Reflecting back on my diary, I realised how much I grown as a person and its also nice to document some memories of things and I glued in some train receipts and plane tickets of places I visited with photos too. 
Disposable cameras make for some of the best photos too and keeps you in the moment! I loved getting once each month and snapping a photo everyday and waiting for them to develop, definitely recommend doing it. Even doing little things like this gets you out exploring.
Bremen hot spots: 
LaViva for a night out, met some friends here
Piano Cafe in the Viertel 
Noosu for a great chinese, just by the train station 
Friends Bar, met some of my best friends here and great cocktails and vibe