Manan Midha, UCD (MSc International Business)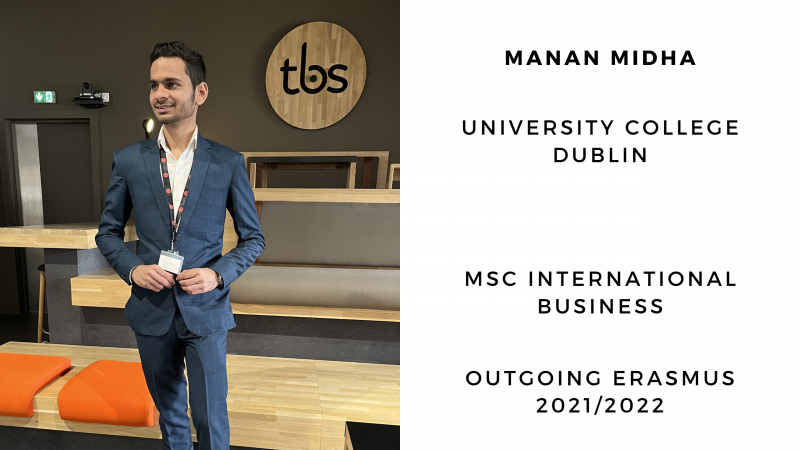 Where did you study abroad? 
Toulouse Business School, Toulouse, France
What did you study abroad?
The modules I studied were International Political institutions and business, Sustainable development and inclusive business, International Human Resource Management, Business communication, and issues in management control and performance.
Studying all these modules was fun and new for me. We had practical and creative exposure while studying with students from all around the world gave us a broad perspective on how international markets work.
Did you join an ESN Section abroad? Favourite Event?
Yes, I joined ESN Toulouse and It was the best thing I did to make friends and attend events. I met students from around the world through ESN. My favorite ESN memory was when we all went for a PUB crawl. we were partying all night in Toulouse. Everyone was sharing their traditions and having fun. I made students from around the world dance to Indian songs.
What is your favourite memory from your Erasmus experience?
Luckily on my birthday, I was at my exchange and 10-15 of my college friends wanted to surprise me and for that, they booked an Indian restaurant for dinner. We all have to go for dinner on 15th march on my birthday. But somehow there were talks in college that some of the group is going to eat at an Indian restaurant and many wanted to join as well. Later that night someone posted in Erasmus groups that we are going to an Indian restaurant for dinner and if someone wants to join they can come. We all were sitting in the restaurant and I see a lot of students coming and joining us and I know neither of them except for that 10-15 whom I know. The plan was so viral that almost 200 students came and it was so mad. The restaurant has a capacity of 20 and we all were so confused about how these people are coming. It turned out there was some confusion and everyone thought there was a get-together of Erasmus students at an Indian restaurant. we all went to the city and danced on the roads and I actually celebrated my last birthday with 200 students from all over the world singing and dancing and it was the best birthday of my life.
Did you also travel to any new countries while studying abroad?
Yes. As an Indian national I need a visa to travel to Europe. Because of Erasmus I applied for a visa and got my visa for 5 months. I traveled to a lot of places in Europe
If I have never got this opportunity I would be in Dublin and never would have seen such beautiful places. I have been to Paris, Italy, Portugal, the Netherlands and so much more. I backpacked to a lot of places and learned how to travel alone and manage the expenses and make friends with unknown people.
Do you have a fun fact about studying abroad?
Studying abroad changes your perspective on life. There are a lot of beautiful places one needs to see and experience. This experience is something that you will never forget for your whole life. Every day you learn something new and each day makes you more brave and confident
Top tips for the University/City you studied at? Favourite places? Shops? Restaurants?
Join an ESN Section. Before coming join their WhatsApp and Facebook groups.

For the best nightlife go to : downtown factory Toulouse, Limelight and Opium.

Travelling is cheap. You can get a unlimited metro and bus card for 10 euros a month.

"Le Shahi Dhaba" has good Indian food and is not much expensive.

 Life is a collection of moments. I know the process, the visas, and finding accommodation could be hard, but you will never know what you would be missing so if you do get this opportunity just say yes.